In Memory
Thomas H Singer - Class Of 1952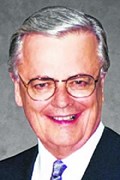 Central 1952 Thomas H Singer
Apr. 24, 1934 - March 4, 2017
SOUTH BEND - Tom was born on April 24, 1934 in Rochester, New York to George O. and Esther T. Singer. Esther was the former County Extension Agent for St. Joseph County, Indiana. Both parents predeceased him as did his brother, George.
On January 12, 2001, he married the bright star of his life, Carmen M. Piasecki, who survives. Also surviving are his caring daughters, Jennifer Singer (John Dolezal) of Goshen, Rebecca Singer (John Fonash) of Granger and Kate Singer (Joel Williams) of Elkhart. Grandchildren are Justin (Sasha), Allison, Anna, and Laura Dolezal, Anton Goddard-Fonash and Isla and Esther Williams. Also surviving are sister-in-law VelRae Singer of South Port, North Carolina; sister-in-law Nancy Hanlon (Tom) of Fort Wayne, Indiana; and brother-in law Mark Piasecki (Pat) of South Bend, - See more at: http://www.legacy.com/obituaries/southbendtribune/obituary.aspx?n=thomas-h-singer&pid=184402057&eid=sp_ommatch#sthash.97DKdM9o.dpuf
Indiana. Further survivors include nephew Mark Singer (Susan) of Crescent, Pen nsylvania; Michael Singer (Marsha) of Oceanside, California; nieces Michelle Singer, Elizabeth Sands (Clayton), Jennifer Hanlon Walnoha (Wade), Patti Toering (Adam) and nephews Sam Singer, Eric Singer, Sean Singer and Jon Hanlon (Susie).
Tom was a 1952 graduate of South Bend Central High School. He received his undergraduate degree from the University of Michigan, where he played varsity basketball and sang in the men's glee club. He received his law degree from Michigan in 1959.
He began his legal career with the South Bend law firm of Crumpacker, May, Beamer, Levy and Searer. Later, he formed a partnership with Alexander Lysohir. He finished his career as Of Counsel to the firm of Nickle & Piasecki of South Bend. He retired in 2012.
Tom was an Adjunct Professor of Law at the University of Notre Dame Law School where he taught trial advocacy for over 40 years. He was a 30 year member of the faculty of the National Institute of Trial Advocacy (NITA), Boulder, Colorado, where he was an Hon. Jim R. Carrigan Fellow for Distinguished Service to NITA and the recipient of the NITA National Teacher of the Year award. He also taught at the Advocacy Institute in Ann Arbor, Michigan.
Tom was a Fellow of the American College of Trial Lawyers; a Fellow of the International Society of Barristers; and a Fellow of the Litigation Counsel of America. He was listed in the Best Lawyers in America for 25 years. Law and Politics/Indianapolis Monthly named him one of the 50 Indiana Super Lawyers for 2004-2006. In 2011, the Senior Lawyers Section of the Indiana State Bar Association named Tom one of eleven "legendary lawyers and judges" whose oral history would be included in the "Significant Attorneys" history project. This history is now housed in the Indiana Historical Society.
Tom served for nine years on both the Indiana Judicial Nominating Commission and the Indiana Commission on Judicial Qualifications, and was a member of the Indiana Supreme Court Committee on the Rules of Evidence. He was on the board of the American Judicature Society. He also served on the Board of Directors of the Legal Services Program of Northern Indiana, Inc. He was past president of the St. Joseph County Bar Association. He was also a member of the Board and a Fellow of the College of Indiana Trial Lawyers Association.
In 1962, Tom was a founder and president of the Citizen's Fair Housing Committee of South Bend-Mishawaka. He also served as the chairman of Mayor Frank Bruggner's Bi-racial Committee in 1963 and was chairman of Mayor Lloyd Allen's Human Relations Commission, 1964-65. He was president of the St. Joseph County Association for Mental Health from 1964-66. He served on the Board of Directors of Hering House, Inc. from 1967-97. The South Bend Junior Chamber of Commerce named him outstanding young man of the year in 1965. He was recipient of the American Negro Emancipation Centennial Authority Citation of Honor, and he received the State Mental Health award. Tom was active in the Urban League and received its award for meritorious community service in 1963. He was the youth group advisor at the First Unitarian Church of South Bend for eight years.
Beginning in 1971, Tom and his daughters won the first five annual father-daughter canoe races from South Bend to Niles, sponsored by Michiana Watershed. In year six they came in second and in year seven they came in third. Younger voices suggested he stay in his library and listen to Mozart.
Tom held life memberships in the American Humanist Association, the NAACP, the ACLU, the Sierra Club and National Organization of Women.
Tom gave his body to the Anatomical Education Program at the Indiana University Medical Center.
Our revels now are ended. These our actors, As I foretold you, were all spirits and Are melted into air, into thin air. And, like the baseless fabric of this vision, The cloud-capped towers, the gorgeous palaces, The solemn temples, the great globe itself- Yea, all which it inherit - shall dissolve And, like this insubstantial pageant faded, Leave not a [cloud] behind. We are such stuff As dreams are made on, and our little life Is rounded with a sleep.
The Tempest
Published in South Bend Tribune from Mar. 8 to Mar. 9, 2017
- See more at: http://www.legacy.com/obituaries/southbendtribune/obituary.aspx?n=thomas-h-singer&pid=184402057&eid=sp_ommatch#sthash.97DKdM9o.dpuf