In Memory
Annie Pearl Mitchell (Chambliss) - Class Of 1954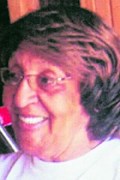 Central 1954 Annie Pearl (Mitchell) Chambliss
July 30, 1936 - Jan. 3, 2017
SOUTH BEND - Annie Pearl Chambliss departed this life on Tuesday, January 3, 2017. She was born in South Bend, Indiana, July 30, 1936, from the union of George "Do" andCarrie (Knowles) Mitchell. Both parents preceded her in death.
Annie was educated in the South Bend Community School Corporation having attended Linden Elementary School and Central High School.
Annie retired from the University of Notre Dame, having worked 25 years as a Receptionist in the Admissions Office. There she was fondly referred to as "Mom" by the students. She also worked as a part-time monitor at the Snite Museum of Art at Notre Dame after her retirement.
Annie was married to Charles M. Chambliss in 1952 and to that union they were blessed with five children: Danny C., Derrick (Gloria) of South Bend, Indiana, Diane (John) Buchanan of Marion, Indiana, Donita, Indianapolis, Indiana, and Darvin (Elizabeth) of Chicago, Illinois.
Annie was a former daughter of the Elks Club of South Bend, Indiana. She enjoyed playing Euchre with her friends as a relaxing pastime. Annie gave her life to the Lord in 2016. She will be truly missed by all who knew her.
She leaves to cherish her memory 14 grandchildren; 24 great-grandchildren; a special daughter, Ann Warner of Arkansas; goddaughter, Elisa D. Waller of South Bend; and a host of nieces, nephews, and other family members and friends. She will also be missed by her lifelong friends: Rev. Donna Waller, Dolores Lee, and Ms. Jeanette Anderson.
Preceding her in death were her parents; a son, Danny Chambliss; sisters: Blanche Whitehead, Georgia M. Franklin; brothers: John Miller Sr., and JamesMitchell.
Services for Annie Pearl Chambliss will be held at 1:00 p.m. on Tuesday, January 10, 2017, at Alford's Mortuary Chapel. Friends may call one hour prior to services. Burial will follow at Mount Pleasant Cemetery.
Arrangements entrusted to ALFORD'S MORTUARY.
Visit our website to sign the family guestbook and/or to send a condolence at: www.AlfordsMortuaryInc.com.
Published in South Bend Tribune on Jan. 8, 2017
- See more at: http://www.legacy.com/obituaries/southbendtribune/obituary.aspx?n=annie-pearl-chambliss&pid=183489825&fhid=8823&eid=sp_ommatch#sthash.sGGnqtoS.dpuf