In Memory
William H Voll - Class Of 1943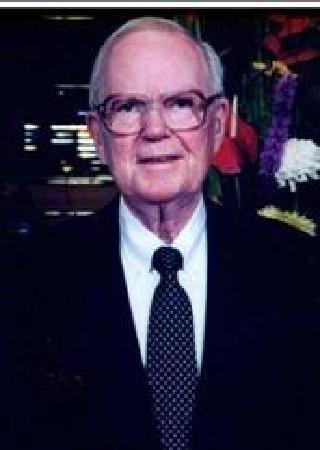 Central 1943 William H Voll Sr
Nov. 11, 1925 - Sept. 29, 2016
SOUTH BEND - William Holland "Bill" Voll, Sr., died Thursday, September 29, 2016, in the company of his family at Holy Cross Village, Notre Dame, Indiana.
Bill was born in South Bend, Indiana, on November 11, 1925, to Bernard John and Helen Holland Voll who preceded him in death.
Following graduation in 1943 from Central Catholic High School, South Bend, Bill enrolled in the University of Notre Dame. When he joined the Naval Reserves, he was transferred to the University of Michigan, Ann Arbor, for training. He proudly served his country during World War II as a U.S. Navy Lieutenant on the U.S.S. Pasadena.
Bill received an honorable discharge and returned to Notre Dame where he earned a Bachelor of Science degree in Mechanical Engineering. Later, he continued his education by completing the Small Business Management Program at Harvard Business School in Boston, Massachusetts.
In 1948, Bill married the former Virginia "Jinnie" McIntyre in Saginaw, Michigan. Together, their greatest achievement was parenting eleven children and mentoring the friends and spouses of their children as well as their grandchildren.
Bill was employed by Sibley Machine & Foundry Corporation, the family business, from 1948 to 1986. He held various positions over the years retiring as Chairman of the Board.
Upon his retirement, Bill and Jinnie travelled throughout the United States, Canada, Mexico, Europe, Australia and New Zealand in a motor home. They visited more exotic and remote places by freighter ship. With great humor, they enjoyed many adventures and misadventures. Realizing his travel days were ending, Bill longed for a last hurrah! He asked his family to accompany him on a cruise to the Inside Passage of Alaska followed by a jaunt to Victoria, B.C. The trip took place this past August and was an extraordinary experience.
A member of numerous professional and civic organizations, Bill always strove to make the community a better place for everyone, particularly the marginalized. He was a frequent contributor to the South Bend Tribune Voice of the People commenting on local and societal issues he felt needed to be addressed.
Bill had a passion for knowledge and for inspiring others, particularly the younger generations, "to do good." He challenged them to use their minds to identify problems and their energies and talents to make changes that would better the world. He was concerned about crime and violence in communities and believed solutions could be found in strengthening the family, encouraging education and praying for peace.
He was an ardent supporter of Notre Dame and of Notre Dame Football. He was also an enthusiastic fan of Chicago Cubs Baseball.
Bill was preceded in death by the love of his life, Jinnie Voll, after 65 years of marriage; and by his sisters, Mary Theresa Coquillard and Helen Georgina Voll.
Left to continue his legacy are Bill's eleven children: Nancy Pietrangeli, South Bend; Bill (Ann) Voll, Jr., Mishawaka, IN; John (Melva) Voll, Williston, ND; Susan (Mark) Galbraith, Winchester, VA; Gina (Joe) Prochaska, Northfield, IL; Mary (Ken) Fisher, Onekama, MI; Tisha (Tim) McBride, South Bend; Bernard (June Sheaks) Voll, Walkerton, IN; Michael Voll, South Bend; Sally (Gregg) Rowley, Venice, FL; Tom Voll, Elbe, WA; 27 grandchildren, 33 great grandchildren and numerous nieces and nephews.
Visitation will take place from 4:00 p.m. to 7:00 p.m. on Sunday, October 16, 2016, at the Palmer Funeral Home-Hickey Chapel, 17131 Cleveland Road, South Bend.
A Mass of Christian Burial will be celebrated on Monday, October 17, 2016, at 9:30 a.m. at The Basilica of the Sacred Heart on the campus of Notre Dame. Burial will follow at Riverview Cemetery, 2300 Portage Road, South Bend.
The family thanks Senior1Care, Center for Hospice Care, the many wonderful caregivers and good friends for their assistance, prayers, well wishes and support for Bill and Jinnie over the years.
In lieu of flowers, memorial contributions may be made to: The Boys and Girls Clubs of St. Joseph County, c/o Family & Children Center, 315 West Jefferson Blvd., South Bend, IN 46601; or The Charles Martin "Touch a Life" Scholarship, c/o Community Foundation of St. Joseph County, 205 W. Jefferson Blvd., Suite 610, South Bend, IN 46601.
Funeral Home
Palmer Funeral Homes - Hickey Chapel
17131 Cleveland Rd.
South Bend, IN 46635
574-289-1000 Funeral Home Details
Send Flowers
Published in South Bend Tribune from Oct. 9 to Oct. 16, 2016