In Memory
Delphine Mae Jerzakowski (Glaser) - Class Of 1946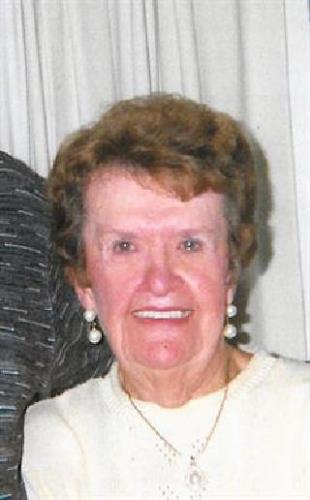 Central 1946 Delphine M (Jerzakowski) Glaser
May 13, 1928 - Aug. 30, 2016
SOUTH BEND - Delphine M. Glaser passed away at 9:50 A.M. on the 30th of August 2016 after a brief stay at The Sanctuary at Holy Cross. "Del" was only 88.
She was born in South Bend on Mothers Day to Michael and Tekla "Tillie"(Tobolski)Jerzakowski. Both parents preceded her in death along with brothers Edmund and Bernard and her sister Clementine.
Del is survived by her husband, Gerald (Jerry) Z. Glaser. Her daughter Rebecca Arnold and husband Stephen reside in Terre Haute and Del's son Michael is also in South Bend. Del's grandchildren Shannon, husband John Pluta along with Evan Beeson live in Terre Haute with Del's five great-grandchildren.
Delphine first attended St. Stanislaus (South Bend) grade school for eight years before going on to graduate from South Bend Central High School in 1946.
After her marriage to Jerry in 1949 they first lived in a tiny apartment around the corner from her family home. By the 1950's, Rebecca was born, then Michael as Del & Jerry found joy in personalizing their first home. A classic Cape Cod and an uncomplicated life? It was the best of times.
A surprise offer of a promotion for Jerry meant the family was moving to Terre Haute. It might as well meant going to Borneo as Del had been close to family for her first four decades. She adjusted and thrived as she joined Newcomers Club, began sewing even more for herself and daughter (and then her grandchildren) but she was back in South Bend two and a half years later.
Sewing was a hobby but dancing was closer to an obsession. Ask anyone at American Legion Post 357 or any number of dance floors within driving distance (or more). Delphine was also an constant reader and many books were shared between mother and daughter.
She and her Jerry were proud members of FOP #26 and saddened when the closing of The University Club at Notre Dame ended that membership. Her likes also included football, late night TV and visits to her family that grew in Terre Haute. Then there was that need to send a note or a card to as many people as a calendar could contain. Hallmark won't survive without her.
Special thanks must be given to her personal physician Dr. Matthew Teeters and his staff. The special care and attention from SJMC and final visits from Hospice of St. Joseph County were invaluable. To all of those who didn't see her for the past year, don't fret. She remembered and spoke of you and recounted the glorious Fridays at the Legion. Yes, she retained her great memories and appreciated those who made them possible. Though too frail to pound the dance floor she prevailed with courage, determination and was probably too stubborn to quit. For her, the title of wife, mother and homemaker was a high calling and a proud legacy. She never longed for more nor expressed regrets.
Visitation for Delphine will be from 10:00 AM until Noon on Tuesday, September 6, 2016 in the Kaniewski Funeral Home, 3545 N. Bendix Dr. A Funeral service will begin at Noon on September 6, in the Kaniewski
Funeral Home with interment to follow at St. Joseph Valley Memorial Park.
In lieu of flowers donations can be made to the National Shrine of St. Jude Christian Missionaries or Hospice of St. Joseph County.
- See more at: http://www.legacy.com/obituaries/southbendtribune/obituary.aspx?n=delphine-m-glaser&pid=181292194&fhid=7050&eid=sp_ommatch#sthash.gbCeUA8e.dpuf