In Memory
Katheryn Ann Kuespert (Huffman) - Class Of 1944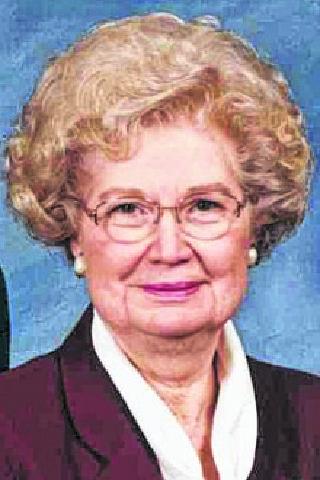 South Bend High School 1944 Kathryn A (Kuespert) Huffman
Kathryn A. Huffman was the beautiful, intelligent, fun loving woman of integrity, strength, and conviction as Mother, Grandmother, and Wife to her family. She was a full time Mom all the years our three children were growing up. She always wanted to be home when the children came home from school because that is when they wanted to talk. She mothered our three children with her heart and soul, including a love of learning. She loved reading, going to the theatre, symphony, and museums, and enjoyed playing with words. She camped the U.S.A. with her beloved husband, Charles A. (Chuck) Huffman, and their three children in a folding camping trailer. She circled the world with her Chuck on one of their many international trips. She lived a life filled with love and laughter. She treasured her family with faith in her Creator, God.
Kathryn was the loving daughter of Raymond D. Kuespert and Ruth M. Staples Kuespert of South Bend, IN, where Kathryn was born. She grew up in a well educated family where intelligent conversation, thoughtful observation, and informed discussions were prized. While in a discussion at the Sunday dinner table, in the days before the internet, when the answer wasn't known to a question, Kathryn or her brother Don immediately retrieved the "World Book" Encyclopedia from the family book shelves to find the answer.
In high school, Kathryn was a Reporter, then News Editor, then Editor-in- Chief on the School newspaper, "The Interlude." Kathryn was a delegate to the American Youth Foundation Summer Camp in Saugatuck, MI. She was a delegate to the "Citizens of Tomorrow" sponsored by the Chicago Tribune for Honor Students. She was Valedictorian of her graduating class in 1944 at South Bend High School.
Kathryn then entered Purdue University in West Lafayette, IN, in 1944, where she was a member of DELTA RHO KAPPA, a National Honorary for distinguished students in the School of Science, ALPHA LAMBDA DELTA, an International Academic Honorary Society for distinguished undergraduate coeds, and KAPPA DELTA PI, an International Academic Honor Society in Education. She was the City Editor of the campus newspaper, "The Exponent," and an Associate Editor of the Purdue Year Book the, "Debris." She also became an Elder in the University Presbyterian Church. She represented her church and was the only female on the University Interfaith Council. She graduated from Purdue University in 1948 with the degree of Bachelor of Science, with Highest Honors.
She taught high school English and Social Studies for two years in South Bend prior to being married to Chuck in 1950. She then taught high school English and Social Studies in Battle Creek, MI, prior to starting our family.
When our youngest was a high school Junior, Kathryn started doing some substitute teaching. Finding discipline problems not to her liking, she enrolled at the University of Delaware. She graduated with a Masters Degree of Education, and pursued a thoroughly constructive career as a Guidance Counselor for fourteen years in Perryville Middle School, Perryville, MD. In those years, she enriched the lives of, and remains in the hearts of, many of the children she counseled, and the colleagues she worked with.
After retiring, she lived with her husband, Chuck, in China for a year while Chuck was finishing his work assignment there. Soon after returning to Wilmington, DE, they moved to Willow Valley, and Kathryn became a member of The First Presbyterian Church on Orange Street where she served as a Deacon. She was a long time Elder in the Presbyterian Church, PCUSA.
Kathryn passed away August 26, 2016. She is survived by her husband of 66 years, Charles A. (Chuck) Huffman, son, William A. (Bill) Huffman, married to Sharon Carr Huffman, of Los Gatos, CA, son, James B. (Jim) Huffman, married to Barbara Clements of Princeton Junction, NJ, daughter, Anne E. Huffman Debbaut, married to Christian Debbaut of Hood River, OR, granddaughter, Mary Kathryn Huffman Gough, married to Timothy Gough, of Llandudno, Wales, UK, and grandsons, Jeffrey A Huffman of Los Gatos, CA, Christopher Z. Debbaut of Stanford, CA, Peter S. Debbaut of Raleigh, NC. Kathryn's brother, Don R. Kuespert, preceded her in death.
Friends and family are invited to share in the celebration of the life of Kathryn A. Huffman at 11:00 a.m. on September 9, 2016, which will be held in the Johnson Auditorium of Willow Valley Manor North, 600 Willow Valley Square, Lancaster, PA,17602.
If you would like to honor Kathryn, we ask that you make a donation in her name to First Presbyterian Church, Deacons, 140 E. Orange St., Lancaster, PA, The American Association of University Women Scholarship and Memorial Fund, 1800 Fairfax Boulevard, Wilmington, DE 19803, or Philanthropic Educational Organization, PEO, for Cottey College, to Deborah Kreider, 356 Flint Lock Dr., Willow Street, PA17584.
Burial will be private in Lower Brandywine Cemetery, 117 Old Kennett Rd., Wilmington, DE, 19807. To send an online visit DeBordSnyder.com.
Published in The News Journal on Aug. 31, 2016
- See more at: http://www.legacy.com/obituaries/delawareonline/obituary.aspx?n=kathryn-a-huffman&pid=181233049&eid=sp_ommatch#sthash.a9zIXRX4.dpuf