In Memory
Merrus Elaine Hoctel (Irwin) - Class Of 1946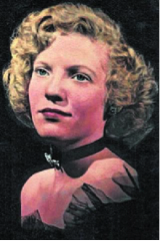 Central 1946 Merrus E (Hoctel) Irwin
Oct. 12, 1928 - July 8, 2016
SOUTH BEND - Merrus Elaine Irwin, 87, of South Bend, IN passed away at 1:20 AM on Friday, July 8, 2016 in Memorial Hospital, South Bend, IN with her son and daughter by her side.
She was born October 12, 1928 to John Henry and Nora Vivian (Colip) Hoctel in South Bend, IN. Along with her parents, she is preceded in death by her beloved dogs Sandy, Boots, Fluffy, Mickey, Mandy and Smokey.
Merrus graduated from South Bend Central High School in 1946. She married David C. Irwin, who survives, on June 18, 1955. Merrus worked at Bendix from April 1969 until March 1992, retiring as a Sr. Administrative Assistant.
Merrus loved to travel, read mystery books, dance, play bridge, bowl, do genealogy and color in her coloring books.
Besides her husband, Merrus is survived by her son, David J. of South Bend, her daughter, Stacey E. of South Bend, her brother Lawrence R. (Sandra) of Norwalk, IA, her niece Angela Marie (Chet) Johnson of Norwalk, IA and nephew Matthew (Jana) Hoctel of Lansing, KS.
A memorial service will be held Sunday, July 24, 2016 at Evangel Heights United Methodist Church. The family will hold a buffet and greet guests from 12:00-1:30 PM. The memorial service will begin at 1:30 PM followed by a committal service to be held in the Memorial Chapel at Highland Cemetery, 2300 Portage Ave., South Bend, IN 46616.
Contributions in memory of Merrus E. Irwin may be made to Pet Refuge, 4625 S. Burnett Street, South Bend, IN 46614 or any other animal rescue operation of the donor's choosing. Online condolences may be sent to the family at www.palmerfuneralhomes.com.
I'M FREE
Don't grieve for me, for now I'm free,
I'm following the path God laid for me.
I took his hand when I heard his call,
I turned my back and left it all.
I could not stay another day,
To laugh, to love, to work, to play.
Tasks left undone must stay that way,
I've found that peace at the close of the day.
If my parting has left a void,
Then fill it with remembered joy.
A friendship shared, a laugh, a kiss,
Ah yes, these things I too will miss.
Be not burdened with times of sorrow,
I wish you the sunshine of tomorrow.
My Life's been full, I savoured much,
Good friends, good times, a loved one's touch,
Perhaps my time seemed all too brief,
Don't lengthen it now with undue grief.
Lift up your heart and share with me,
God wanted me now, He set me free.
Published in South Bend Tribune from July 15 to July 17, 2016
- See more at: http://www.legacy.com/obituaries/southbendtribune/obituary.aspx?n=merrus-e-irwin&pid=180673948&eid=sp_ommatch#sthash.LpsNX7vh.dpuf