In Memory
Anita F Nyikos (Bedford) - Class Of 1947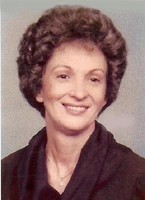 Central 1947 Anita (Nyikos) Bedford
Mar. 9, 1929 - Apr. 13, 2016
MISHAWAKA - Anita (Donoho) Bedford, 86, of Mishawaka, IN, passed away on Wednesday, April 13, 2016 at Tanglewood Trace in Mishawaka. She was born March 9, 1929 in South Bend, IN to the late John and Margaret (Retek) Nyikos. On July 3, 1948, in South Bend, Anita married Byron Wayne Donoho. Byron preceded her in death on April 21, 1977. On September 16, 1978, in South Bend, she married Alan Bedford.
Anita is survived by her husband, Alan Bedford; three children, Mark (Peggy) Donoho of North Liberty, Michael (Lynne) Donoho, of South Bend, and Becky Starzynski of South Bend; seven grandchildren, Mark Wayne Donoho of Mishawaka, Tracy Sopher (Dave) Gee of Plymouth, Scott (Lisa) Donoho of Simi Valley, CA, Kerry (John) Leader of Mishawaka, Eric (Jennifer) Donoho of Carmel, IN, Amy Starzynski (Zachary) Coddens of Bloomington, IN, and Anthony (AJ) Starzynski of South Bend; nine great-grandchildren, Britney Sopher, Kennedy Sopher, Lexi Leader, Jake Leader, Benjamin Leader, Eleanor (Ellie) Coddens, Emma Coddens; Kayleigh Donoho, Byron Donoho; two step grandchildren, Cara Gee, Caylee Gee; one step great-great grandchild, Emma Thompson.
Anita is also survived by her sisters, Margaret Smith, Alice (Don) Miller, Lillian Buti and brother, John (Ann) Nyikos.
She is preceded in death by her first husband, Byron; her parents, John and Margaret Nyikos and her brother, Frank Nyikos.
Anita graduated from Central High School, South Bend in 1947. Besides being a wife and mom, she was a foster parent for Catholic Social Services, a volunteer for Salvation Army reading to local children, tutored Hungarian immigrants, a lifeguard at the Natatorium in South Bend, and typed dissertations for Notre Dame students.
The family would like to thank the staff at the Center for Hospice Care for their wonderful care they gave Anita. They also extend a special thank you to Tanglewood Trace Assisted Living Center, Mishawaka for their daily love and care for Anita, their continued love and care for her husband, Alan, and for the love and hospitality they gave to Anita's family.
There will be no visitation or funeral services as requested by Anita. There will be a private entombment at Riverview Cemetery, South Bend. Palmer Funeral Home-Guisinger Chapel is assisting the family.
Memorial contributions may be given to Center for Hospice Care, 501 Comfort Place, Mishawaka, IN 46545. Online condolences may be sent to the family at www.palmerfuneralhomes.com.
[Postion 1 Keyword: catholic], [Position 1 Keyword: catholic]
Funeral Home
Palmer Funeral Homes - Guisinger Chapel
3718 South Michigan Street
South Bend, IN 46614
(574) 291-5880
Published in South Bend Tribune on Apr. 14, 2016
- See more at: http://www.legacy.com/obituaries/southbendtribune/obituary.aspx?n=anita-bedford&pid=179611911&fhid=7078&eid=sp_ommatch#sthash.3hQ6jU3K.dpuf