In Memory
Karen Anita Futrell (Jones) - Class Of 1967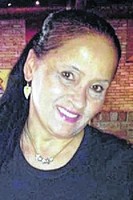 Central 1967 Karen (Futrell) Jones
Karen Futrell-Jones
Aug. 14, 1949 - Apr. 3, 2016
STAFFORD, TX - Who can find a virtuous woman? For her worth is far above rubies... Proverbs 31:10
Mrs. Karen Futrell-Jones was born in Chicago, Illinois, on August 14, 1949, to Augusta and Edith Futrell. She was the second born, following her sister, Marsha Futrell-McCullough. Her life's journey modeled a life of a virtuous woman, who with an unselfish and loving heart was a devoted wife, mother, sister, sister-in-law, aunt, cousin, great-aunt, great-great-aunt, friend and colleague. Karen received Christ at the young age of 10 at St. John Missionary Baptist Church in South Bend, Indiana, and has been faithful ever since. Growing up she sang in the church choir and attended many of the church functions.
Karen attended Central High School where she was a cheerleader, and graduated with honors. After graduating, she worked at WNDU TV Station for Notre Dame University in the marketing and sales department. Before moving to Houston, she worked in the sales department for Hoover and then Eureka Vacuum Cleaners. In 1991, she started with Houston Cellular in the mobile phone industry, which later became AT&T, where she faithfully worked for the past 25 years. Impressively, she achieved top sales status at every company she worked for, and her love for sales has afforded her many awards, accolades, trips, bonuses and other accoutrements. She was invited to the celebration of the 2008 NBA Hall of Fame Inductees Ceremonies by her longtime friend Adrian Dantley. Because of her known success at AT&T, she was able to persuade this Fortune 50 Corporation to sponsor executive gift bags for this class of inductees.
Karen and Donald met in South Bend, Indiana, in 1980. They decided to relocate to Houston, Texas, in order to pursue greater professional opportunities. After moving to Texas, their relationship blossomed into eternal love. Blessed by God, Karen and Donald married on August 10, 1985. Last August they celebrated their 30th wedding anniversary. To this union was born a beautiful baby boy who they affectionately named John Blair. John Blair was Karen's pride and joy. She raised him to have a strong relationship with the Lord. She instilled in him her strong Christian values and love of family.
Karen lived life to the fullest, one of her favorite pastimes was spending time with friends and colleagues after work, which she comically labeled her "stress management class." She loved to travel and visited friends and family all across the country. She had a circle of friends and they participated in frequent fun activities in Houston. All of these strong women worked extremely hard.
One of Karen's passions was serving as an advocate for breast cancer awareness. Affectionately known as BB, Karen was one the matriarchs of her family. She represents the love, grace, beauty, and steadfastness that all of the young women in this family looked up to--- Karen was a rock.
On April 3, 2016, Karen made her triumphant journey to join her Lord and Savior Jesus Christ. Her loved ones who preceded her in death: parents who raised her, Beanie and EJ; two brothers Calvin and Vincent; sister-in-law, Maxine; uncle Nice; first cousin Jerry, nephew Carlton and Raphael. She leaves to cherish her memory and legacy: her loving husband Donald; son, John Blair; sister, Marsha "Cookie"; and brother-in-law, Kenny; brother, Ellie Joe "Sonny"; uncle Edgar, aunt Odessa; first cousins: Michelle, Melody, Monica, Marvella, Edgar Jr., Kenny, Tyrone, Sherry, Janice, Kathy "Kitty," Vanessa and Lois "Yogi;" nieces: Diana, Kim (John "Skip"), Monique (Tony), SuLandra "Cassy", Nova, Shachelle; Nephew Tony (Cindy); great-nieces: Meghan, Ashley, Carlin, Felicia, Maxine, and Carlena; great-nephews: Frank, CJ, Alex, Carlson "Bunky" and Anthony; great-great-nieces: Paige, Farah and Dakota; great-great-nephew, Kyron; 92 year old mother-in-law, Mary Borders "Nana;" sisters-in-las: Teri, Connie, Vickie and Jonita "Kookie;" and a host of other family and friends.
The family will receive guests for a visitation on Friday, April 8th, from 7:00 pm to 9:00 pm at Sugar Land Mortuary, 1818 Eldridge Road, Sugar Land, TX. Funeral services will be held at 11:30 am Saturday, April 9th, at Lakewood Church, 3700 SW Freeway, Houston, TX, with Rev. Dodie Osteen officiating. Final resting place will be at Forest Park Westheimer Cemetery. - See more at: http://www.legacy.com/obituaries/southbendtribune/obituary.aspx?n=karen-futrell-jones&pid=179550746&fhid=11893&eid=sp_ommatch#sthash.JykgpjpB.dpuf