In Memory
Daniel Edward Sexton - Class Of 1962 VIEW PROFILE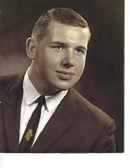 Central 1962 Daniel E Sexton
Mar. 19, 1943 - Mar. 24, 2017
MISHAWAKA - Daniel Edward Sexton Sr. (Big Dan) died peacefully in Mishawaka Friday night (March 24th, 2017) at the age of 74.
Dan is survived by his children: Daniel Jr. (Lonnay) Sexton of Mishawaka, Sharon Sue Sexton of South Bend, Paul Brian Sexton (Benjamin Futa) of Madison, WI, Thomas Adam (Tia) Sexton of Mishawaka, Ashlyn Marie McCollum (Jason) of Elkhart and Nicolas Edward (Linzi) Sexton of South Bend; his sister, Lila Mae Buford of Mishawaka and his brother, David P. (Lisa) Sexton of South Bend; his grandchildren: Alex Edward (Michelle) Sexton of Granger, Jacob Gale Sexton of Mishawaka, Elizabeth Catherine Sexton of Mishawaka, Josh Moore of Osceola, Braydon, Gavin Sexton of Mishawaka and Conner McCollum of Elkhart; his great-grandchildren: Riley, Caleb and Nathanial Sexton of Granger, and numerous nieces and nephews.
Dan is preceded in death by his parents, Edward and Violet Sexton, his daughter, JoAnn Sexton-Moore, his brothers, Edward Jr., William and George, and his sister, MaryLou Anne Brown.
Dan was born March 19, 1943 in Clarendon Hills, DuPage County, IL to Edward and Violet Sexton. He attended South Bend Central High School and graduated in June of 1962. He married Marcia Sue Gunter of Mishawaka, IN on September 1, 1962, then later divorced and re-married to Tammy L. Watson of Muskegon, MI
During childhood, Dan and his family lived in several locations including New Carlisle (Hudson Lake), Michigan City and later settling in South Bend where he attended James Madison grade school. In the summer of 1946 at the ages of three and five, Dan and his brother Dave swam across Hudson Lake and back with the assistance of an inner tube and the family dog. Dan also enjoyed spending time with family and playing backgammon, cards and other games.
Dan was indentured into the South Bend Local #153 International Brotherhood of Electrical Workers (IBEW) in February of 1968 where he acquired his Journeyman Electrician certification and later worked in several states including Arizona, Nevada, Wyoming, Minnesota, Michigan, Florida, New York and a few places in between and went where the work was, often with family in tow. He retired in February of 2005 in Las Vegas, NV.
"THOUGH THE WHITE WINGS OF DEATH HAVE SCATTERED MY DAYS, I WILL BE WITH YOU, EVEN IN THE SILENT MEMORY OF GOD"
A funeral is scheduled for Friday, March 31st, 2017 at 11:00 am. Viewing and visitation between 9:00 and 11:00 at Hahn Funeral Home, 505 W. 8th Street, Mishawaka. Pastor Mike Cramer of New Life Church in Osceola will officiate the ceremony. All are welcome to attend and celebrate Big Dan's life. The family would like to thank Creekside Village and Heart to Heart Hospice for their efforts in taking care of Dan.
Published in South Bend Tribune on Mar. 27, 2017
- See more at: http://www.legacy.com/obituaries/southbendtribune/obituary.aspx?n=daniel-e-sexton&pid=184717900&fhid=8846&eid=sp_ommatch#sthash.1RAq8hIc.dpuf
Click here to see Daniel Edward's last Profile entry.