In Memory
David Karl Holmberg - Class Of 1962 VIEW PROFILE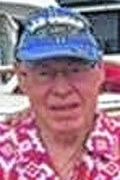 David Karl Holmberg

Oct. 19, 1942 - June 15, 2017

SOUTH BEND - David Karl Holmberg passed away following a short illness on June 15 in Nha Trang, Vietnam, at the age of seventy-four. David was born in South Bend, IN, on Oct. 19, 1942, to Karl and Ilah Holmberg. He was baptized and confirmed at Gloria Dei Lutheran Church in South Bend, IN. He graduated from South Bend Central High School in 1962.

He worked locally and was then drafted into the United States Army. After his military service in South Korea, he moved to Southern California where he lived for most of his adult life. He earned a degree from Northrup Institute of Technology. He then worked as a quality control inspector for several manufacturing firms in Southern California. David enjoyed car rebuilding, deep sea fishing, world travel, and art.

David was married to Heidi Korbus, Debra Ann Martel (who preceded him in death) and Nguyen Thi Phuong Ly. He is survived by his son, Timothy Patrick Holmberg of San Diego, California; his brother, Donald (and his wife, Patricia) Holmberg of South Bend, Indiana; his sister, Doris (and her husband, Bob) Allison of Granger, Indiana; and his brother, Kenneth (and his wife, Olga) Holmberg of Montague, Massachusetts. He is also survived by several cousins, a nephew, nieces and friends, and others who knew and loved him.

Memorial donations may be sent to Gloria Dei Lutheran Church, South Bend, Indiana.
Click here to see David Karl's last Profile entry.