In Memory
Shirley Belle DeFerbrache (Rajski) - Class Of 1942 VIEW PROFILE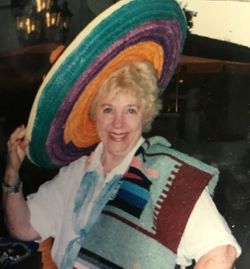 Shirley Belle DeFerbrache Rajski
Shirley Belle DeFerbrache White Rajski, 95, of South Bend, Indiana passed away at 5:10 p.m. Saturday, September 29, 2018 in her home. She was born on February 6, 1923 in Eau Claire, Wisconsin to Frederick R. DeFerbrache, Sr. and Hazel (Dygert) DeFerbrache.
Shirley was the owner of Shirley's Whitehouse Ceramics. She received her art training in ceramics in Glenn Bernie, Maryland. Shirley taught ceramics in her studio for more than 30 years. She was also a School Crossing Guard near Portage and Woodlawn Avenue from 1956 until the 1980's, and was a training officer for all crossing guards in South Bend. Shirley had several poetry books published.
On June 29, 1943, she married George L. White, Sr., who preceded her in death on March 31, 1971. She married Edward G. Rajski on July 6, 1974, who preceded her in death on May 13, 1989. She was also preceded in death by her daughter, Connie McGee; four sisters, R'slisle Wilson, Mildred Dixon, Gloria Evon and Marjorie Zimba; and two brothers, Fred R. DeFerbrache, Jr. and Ronald L. DeFerbrache. Shirley is survived by her son, George L. White, Jr. (Sharon MacLellan); her granddaughter, Celeste (Taylor) Steele of Vancouver, Canada; one brother, Warren R. DeFerbrache of Osceola, Indiana; and a sister-in-law, Marilyn DeFerbrache of South Bend, Indiana.
A Catholic Funeral Service will be held at 1:00 p.m. on Thursday, October 4, 2018 in the Kaniewski Funeral Home, 3545 N. Bendix Drive. Burial will follow in Highland Cemetery. A visitation will be held from 11:00 a.m. until 1:00 p.m. in the funeral home. Shirley was a member of the St. Joseph Hospital Auxiliary, Moose Lodge #52, and the American Legion Post 50 Ladies Auxiliary. She was a volunteer for Campfire Girls for over 20 years and the Tea Chairman of Hearing and Speech. Shirley genuinely cherished her family and friends and truly lived life to the fullest. Memorial contributions may be directed to the Hospice Foundation. Online condolences may be left at www.kaniewski.com.
05/15/2022 EJS
Click here to see Shirley Belle's last Profile entry.