In Memory
Rita Davis (Crimmins) - Class Of 1959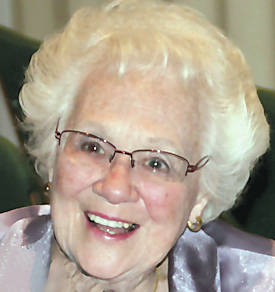 Central 1941 Rita (Davis) Crimmins
ANGOLA — Rita Marie Crimmins (nee Davis), longtime resident of Angola Indiana, died on December 11 at her daughter Mary Beth's home in Noblesville Indiana; she was 94 years old.
Rita was born September 11, 1923, in South Bend, Indiana, to Noemi (Probst) and Albert C. Davis. She attended St. Joseph's Elementary School and South Bend Central High School. It was during her grammar school days that she was captivated by a neighborhood boy, John Crimmins, a good-looker who took her for a ride on the "rollie coaster."
After high school she attended St. Mary's Academy and then was off to Chicago to pursue a nursing career at Ravenswood Nursing School. She would be reacquainted with that boy at a chance meeting on the South Shore Train travelling from Chicago to South Bend.
John and Rita were married on September 4, 1948. Their first baby, Mary Beth, was born a year later. Twelve re-locations and six children later they settled permanently in Angola, Indiana.
After her nursing career, Rita created a vocational education program for Angola High School, where through her instruction she promoted health occupations and encouraged students to explore a variety of medical careers. As a result of her work many students chose to become healthcare professionals, and the program she created for the high school still exists today.
Rita was a longtime member of St. Anthony's Altar and Rosary Society, the Psi Iota Psi Sorority, Antique Club, many bridge clubs, and a volunteer at Cameron Hospital.
A passionate and adventurous cook and baker, Rita delighted in trying new recipes and entertaining friends and family in her home. She loved nothing better than to be surrounded by her children, grandchildren and great-grandchildren, and feeding them her goodies.
Rita is survived by her seven children, Mary Beth and Robert Huba, John Patrick and Kim Crimmins, Ann and Doug Johnson, Tim Crimmins and Sharon Marx, Joni Crimmins, Cindy Crimmins and Patrice and Eric Ellingson; 20 grandchildren; and seven great-grandchildren.
She is predeceased by her parents; her brother, Albert (Bud) C. Davis; and her beloved husband of 63 years, John Patrick Crimmins Sr.
Mass of Christian burial will be 11 a.m. Tuesday, December 19, 2017, at St. Anthony of Padua Catholic Church, 700 W. Maumee Street, Angola, with visitation from 10-11 a.m. prior to the service Tuesday at the church. Internment will take place in Circle Hill Cemetery, Angola.
Visitation will be from 5-7 p.m. on Monday, December 18, 2017, at H.E. Johnson and Sons Funeral Home, 108 S. West Street, Angola.
In lieu of flowers contributions can be made to Saint Anthony's Catholic Church.
To leave condolences visit www.hejohnsonfh.com.
jmc 15 dec 2017