In Memory
Delores C. "Dolly" Kwiecinski - Class Of 1953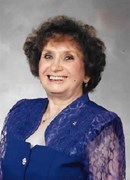 Delores C. "Dolly" Kwiecinski

April 26, 1925 - Feb. 15, 2018

SOUTH BEND - Delores C. "Dolly" Kwiecinski, 92, of South Bend, Indiana passed away at 8:50 p.m. Thursday, February 15, 2018 in Memorial Hospital. Delores was born on April 26, 1925 in South Bend, Indiana to Martin and Alice (Kaczmarek) Kwiecinski, and was a lifelong resident. She retired on February 28, 1992 from the South Bend School Corporation where she was employed as a secretary. She had also been employed as a secretary at Oliver Farm Equipment, Studebaker, and Mid-West Prod. Creameries, Inc. Delores is survived by her sister, Arlene (Pete) Spitz of South Bend, Indiana; her brother, Ronald (Barbara) Kwiecinski of South Bend, Indiana; her sister-in-law, Mary Ann Kwiecinski of South Bend, Indiana; her aunt, Marie Kaczmarek; many nieces and nephews, great-nieces and great-nephews, and great-great-nieces and great-great-nephews; and by her Godchildren, Joanne (Krych) Grzeskowiak, Carolyn Spitz, Ruth (Kwiecinski) Berenzy, and Timothy Wroblewski. She was preceded in death by her parents, Martin and Alice Kwiecinski; her sisters, Zenobia Krych, Margaret "Marge" Kwiecinski, Christine "Chris" Banicki, and Lorraine "Lori" Wroblewski; her brothers, Lawrence, Edward, and Marvin Kwiecinski; and her Godsons, Martin Banicki and Thomas Sharpe. A Mass of Christian Burial will be celebrated at 10:00 a.m. Tuesday, February 20, 2018 in St. Hedwig Church. Burial will follow in St. Joseph Cemetery. A visitation will be held from 2:00 p.m. until 4:00 p.m. and 6:00 p.m. until 8:00 p.m. Monday in the Kaniewski Funeral Home, 3545 N. Bendix Drive, where a Rosary will be prayed at 3:30 p.m. Delores was a graduate of South Bend Central High School. She was a member of St. Hedwig Church, Rosary Society, and Golden Cluster; Daughters of Isabella Notre Dame Circle #572, Chopin Fine Arts, St. Stanislaus Harvest House, St. Casimir Senior Citizens; and St. John's Retirees. Delores enjoyed spending time with her family, Rosary making, cake decorating, crocheting, needle punch, rug hooking, and ballroom dancing, including national and world competitions. She enjoyed traveling with her sister Marge. In addition to seeing the sights in the United States, they also made three trips to Europe. After Marge's passing, she enjoyed traveling with her brother, Ron and sister-in-law, Barbara to many locations, including Europe. She also enjoyed sailing and boating with her friends and family. Dolly's family was very special and important to her. She appreciated all their help and support, and always referred to them and her special friends, affectionately as "Her Angels". She would also like to thank Dr. William N. Farabaugh for his friendship and excellent care over the years. Memorial contributions may be directed to St. Hedwig Church, 311 S. Scott Street, South Bend, Indiana 46601.
Published in South Bend Tribune on Feb. 18, 2018
jmc 19 fwb 2018