In Memory
Thomas Leslie Howard - Class Of 1943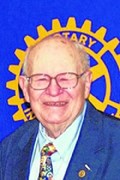 Central 1943 Thomas Leslie Howard
Apr. 16, 1924 - Nov. 19, 2017
ST. CHARLES, MO - One of our Hometown Heroes is laid to rest
Thomas Leslie Howard passed at home in St. Charles, MO on Sunday, November 19 at the age of 93. He was surrounded by his loving children. Tom was born in South Bend, Indiana to Louis Howard and Catherine Cosgrove on April 16, 1924. After graduating Central High School, he was drafted in January 1943 at the age of 19 to serve in the armed forces in the 754th Tank Battalion heading for the Pacific. He was awarded the Silver Star for gallantry in action and also received the Purple Heart for wounds received in combat. Tom was honorably discharged in December 1945.
Following the war, Tom returned home to his family in South Bend, Indiana. Tom married the love of his life, Marion Jean Reed, on June 10, 1950. They were blessed with three beautiful children - Jonathan Leslie, Jacqueline Sue and Madeline Sue. With three young children, they moved to St. Louis in 1957. Following his long career with Studebaker and Ford Motor, he began work with military defense contractors, Sperry-Rand and McDonnell-Douglas until he retired. Throughout his life, Tom was an avid author - writing and publishing many articles, documentaries, short stories and poems. He is also featured in many publications about World War II and the Pacific.
Tom was a dedicated father to his three children, taking them all camping, leading Jon's Scout troops, sharing a sentimental journey returning to the Philippines with Jackie, and joining Madeline's family on many trips to South Bend and Lake Michigan.
He is survived by his three children and three great grandchildren; and his dear sister Margaret O'Neill and nephew Jim (Bonnie) Howard & family from South Bend.
Schrader.com for additional information, visitation, memorial service, and full military honors committal. In lieu of flowers, contributions may be made to Assistance Association Missouri Veterans Cemetery Fort Leonard Wood 25350 Hwy H Waynesville, MO 65583 or Pulaski County Rotary Club PO Box 1112 St. Robert, MO 65584.
Published in South Bend Tribune on Nov. 28, 2017
jmc 29 nov 2017