In Memory
Isabelle I Jerzakowski (Bauer) - Class Of 1939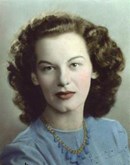 Central 1939 Isabelle I (Jerzakowski) Bauer
Oct. 16, 1921 - May 25, 2017
GRANGER - Isabelle Irene Bauer, 95, of Granger, IN., passed away peacefully in her sleep at 7:15 a.m. Thursday, May 25, 2017 at Sprenger Healthcare of Mishawaka.
Isabelle was born on October 16, 1921 in South Bend, IN., to Stephen and Haddie (Ozdych) Jerzakowski.
On October 13, 1943 in Mishawaka, IN., Isabelle married Ted W. Bauer. Ted has preceded her in death.
Isabelle is survived by a daughter, Sally Stockton and her husband William, a granddaughter Sarah and her husband Daniel, four sisters; Virginia, Anita, Shirley and Beverly.
Isabelle was also preceded in death by her parents, a brother Leo, four sisters; Celina, Esther, Francis and Delores.
Isabelle was a graduate of Central High School.
Visitation for Isabelle will take place on Tuesday, May 30 from 5:00 p.m. until 7:00 p.m. at the Bubb Funeral Chapel, 3910 N. Main Street, Mishawaka. No funeral services will be held.
Burial will take place at Fairview Cemetery in Mishawaka at a later date.
In lieu of flowers memorial contributions can be made to Pet Refuge, Inc. 4626 Burnett Drive, South Bend, IN 46614.
Published in South Bend Tribune on May 27, 2017
Jmc 27 may 2017