In Memory
Neal Strong - Class Of 1950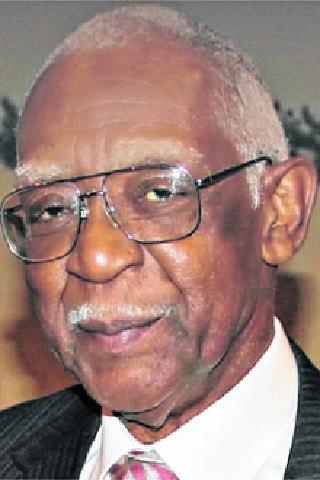 Central 1950 Neal Strong Jr
March 18, 1932 - Nov. 13, 2016
SOUTH BEND - Neal Strong, Jr, age 84, passed peacefully into his Father's arms on Sunday, November 13, 2016.
Neal was born, March 18, 1932, in Kosciusko, Mississippi to Neal "Pedo" Strong, Sr. and Pinkie Hicks.
Neal was raised in South Bend, Indiana and graduated from Central High School. After an early high school graduation, he joined the United State Air Force, and later attended Tennessee State University in Nashville, Tennessee. Upon graduation from college with a Bachelor's degree in accounting, Neal worked as a Chicago Transit Authority bus driver, then at Whirlpool Corporation in Benton Harbor, Michigan as an Accountant, and later retired as a senior executive from E.I. DuPont at Washington Works in Parkersburg, West Virginia. After retirement, Neal served as a Toll Collector on the Memorial Bridge, the first African American to hold a position in Parkersburg on the Bridge. He was a lively, outgoing person who never met a stranger. His hearty laugh was infectious and never forgot a face.
Early in life Neal played basketball, he liked to bowl and play golf. He was a proud member and officer of the Parkersburg American Legion Post. Most recently he played bridge in Marietta, Ohio. He liked to travel, fish, and was a master at reading and remembering maps. As an avid reader, the library was one of his favorites places to be.
Neal was united in holy matrimony to Dorothy Alexander where one child was born and later to Viola Strong. Neal and Viola, who were married over 50 years, provided a loving home for eleven children.
To cherish his memory, Neal leaves four sons, Greg Moore (Taunji) of Long Beach, California, William McGhee of Santa Fe, New Mexico, Terry Ellis (Lona) and Michael Strong (Stephanie) both of Parkersburg, West Virginia, and three daughters, Pamela Franklin of South Bend, Indiana, Clarissa Plair of Cedar Hill, Texas, and Sandra Ellis-Barba of Chicago, Illinois. Neal has 27 grandchildren and 33 great-grandchildren and one on the way. Neal and Viola also raised their grand-child, Maurice Flowers of Charlotte, North Carolina.
In addition to his parents, Neal is preceded in death by his wife: Viola Mitchem Strong, two sons: Alan Ivan Franklin and DeWayne Edward Franklin, two daughters: Dennise Marie Franklin and Monica Lynn Franklin, and two brothers: Charles Yarbor and Dr. Odis Strong.
Neal will be missed by a host of other relatives and friends!
Visitation will be at Lambert-Tatman Funeral Home, 3005 Grand Central Avenue, Vienna, West Virginia on Friday from 6-8 p.m. and Saturday 12-1 p.m. A Memorial Service will be held at Lambert-Tatman Funeral Home on Saturday, November 19, 2016 at 1:00 p.m.
Funeral Home
Lambert-Tatman Funeral Home
3005 Grand Central Ave
Vienna, WV 26105
(304) 295-6606 Funeral Home Details
Send Flowers
Published in South Bend Tribune from Nov. 17 to Nov. 18, 2016
- See more at: http://www.legacy.com/obituaries/southbendtribune/obituary.aspx?n=neal-strong&pid=182562688&fhid=19912&eid=sp_ommatch#sthash.LQChdBgQ.dpuf