In Memory
Margaret Mcindoe (Gentry) - Class Of 1941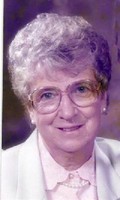 1941 Riley Margaret (Mcindoe) Gentry
Margaret Gentry
Jan. 17, 1923 - April 8, 2016
SOUTH BEND - Margaret "Nan" Gentry, 93, of Sun City Center, FL, formerly of South Bend, IN, passed away on April 8, 2016. She was born on January 17, 1923, in Terre Haute, IN, to James and Mary (McIntyre) McIndoe. On Jan. 16, 1943, she was united in marriage to John Wesley Gentry. Nan graduated from Riley High School, South Bend. When John enlisted in the Army in January of 1943, she worked at various businesses in South Bend. After the war, John went to work for Studebaker in South Bend and she spent most of her early married years being a stay-at-home mom and raising her three boys: Jim, Scott & Doug. She often babysat and helped care for several other children while their parents worked. She belonged to Turners and was in the women's bowling league for years. She was a darn good bowler too! She was a former member of the Southlawn United Methodist Church in South Bend. Later in life, she worked as a volunteer at St. Mary's Hospital in Livonia, MI. Nan always enjoyed spending time with her grandchildren, collecting sea shells on Lake Michigan, going shopping and to flea markets with her best friend (her sister, Imogene). She also enjoyed traveling and going on cruises with John.
Nan is survived by her sons: Jim (Joan) Gentry of Lithia, FL, Scott (Jackie) Gentry of Garden City, MI, and Doug (Sue) Gentry of Yukon, OK; nine grandchildren: Todd Gentry, Jennifer (Tony) Alloy, Scott Gentry, April (Jason) Adams, Melissa (Jim) Sauer, Tamara Gentry (Jeff Cameron), John Andrew (Meagan) Gentry, Mary Kate Gentry and William Gentry; 16 great-grandchildren: Jaiden and Austin Alloy, Julia Gentry, Ian Keener and Brittany Gentry, Brian, Andrea, Tyson, Caleb and Rhys Sauer, Abigail and Hunter Adams, Noah and Zac Cameron, Aedan and Mia Hutton; and sisters-in-law, Donna McIndoe of Niles, MI, and Mary Darbin of Coffeyville, KS.
Funeral services will be held at 11:00 a.m. Friday, April 15, 2016, at Palmer Funeral Home-Guisinger Chapel, 3718 S. Michigan St., South Bend, IN. Graveside services and burial will follow at Southlawn Cemetery, South Bend. A luncheon will be held after the service at Allie's Café & Catering, 2323 Mishawaka Ave., South Bend. Everyone is welcome to attend. Friends may visit with the family from 4-7 p.m. on Thursday, April 14th, at the funeral home.
In lieu of flowers, contributions in memory of Margaret "Nan" Gentry may be made to Alzheimer's Services, 922 E. Colfax Avenue, South Bend, IN 46617.
Online condolences may be made to the family at www.palmerfuneralhomes.com.
[Postion 1 Keyword: army], [Position 1 Keyword: army]
Funeral Home
Palmer Funeral Homes - Guisinger Chapel
3718 South Michigan Street
South Bend, IN 46614
(574) 291-5880
- See more at: http://www.legacy.com/obituaries/southbendtribune/obituary.aspx?n=margaret-gentry&pid=179600027&fhid=7078&eid=sp_ommatch#sthash.hsNCc2AZ.dpuf