In Memory
Robert B Otolski - Class Of 1960 VIEW PROFILE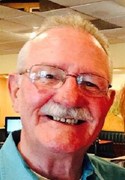 Central 1960 Robert B Otolski
April 16, 1942 - Jan. 9, 2018
SOUTH BEND - Robert Benedict "Bob" Otolski, 75, passed away Tuesday, January 9, 2018 at his home in South Bend.
Bob was born in South Bend on April 16, 1942 to Valentine and Benedict Otolski. He and his older brother Dick were known, to both neighbors and law enforcement, for their own special variety of mischief growing up on North Walnut St. Bob was a standout athlete at South Bend Central High School, winning state championships in football, and further accolades on the track team. He also held the honorable title of "Chief Nut" at Central, which should come as no surprise to anyone who knew Bob, as his sense of humor was legendary. He graduated in 1960, but his devotion to his high school was lifelong. He looked forward to the annual all-school reunions and volunteered with the planning committee.
Bob obtained a degree in education from Ball State University in 1965. He held positions at schools in Flint, Michigan for several years. As a claims adjuster for Allstate, he was transferred to Kalamazoo, Michigan in 1974. There, he put down new roots to raise a family while keeping his neighbors entertained.
Bob returned to his hometown in 1991. At the time of his retirement in 2008, he was working for the State of Indiana Department of Transportation. A Chicago White Sox fan since childhood, he spent many happy hours watching games on TV or at Comiskey Park, often in the company of his favorite niece.
As a boy in the 1950's, Bob stayed up late listening to then-unknowns Elvis Presley and Chuck Berry on radio stations broadcasting from Memphis and Chicago, making him a witness to the earthshaking birth of Rock 'n' Roll and branding him a fan for life. He celebrated his passion for music at bars around town with "Coach Hess's Broom Band", and his family will never be able to hear a Jim Croce song without thinking of him.
Bob is survived, and deeply missed, by his daughters, Laura Otolski (Jamie McCarthy) of Mosta, Malta and Kerry O'Tolski (TJ Shanoff) of Chicago, IL; grandson, Harrison Shanoff; brother, Richard Otolski of Pleasanton, CA; niece, Susan Otolski of Foster City, CA, and many friends, most especially Terri VanOverberghe.
In lieu of flowers, memorial contributions may be made to the Pulmonary Fibrosis Foundation, 230 East Ohio Street, Suite 500, Chicago, IL 60611 (www.pulmonaryfibrosis.org).
A celebration of Bob's life will be held at 25261 Gordon Road, South Bend on Friday, January 19, from 5 to 8 PM. Welsheimer Family Funeral Home assisted with arrangements. Family and friends may leave e-mail condolences at www.welsheimer.com.
Published in South Bend Tribune on Jan. 14, 2018
jmc 14 jan 2018
Click here to see Robert B's last Profile entry.